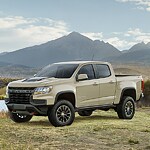 The Chevrolet Colorado has made a name for itself as a reliable and capable truck, and the 2022 model is poised to continue that tradition. At first glance, the interior of the new Chevrolet Colorado looks similar to that of its predecessor, but there are a few fundamental changes that help it stand out from the crowd. First and foremost, the legroom has been increased, giving passengers more space to stretch out on long journeys.
The cabin has been designed with a more modern aesthetic, sleek lines, and chrome accents. The result is an interior that feels both refined and spacious. As for practicality, Chevrolet Colorado comes equipped with plenty of storage options, including a large center console and generous door pockets. The driver's seat is adjusted for easy reach of the controls, and all the gauges and buttons are clearly labeled. The lighting is bright and adjustable, making it easy to see in all conditions.
In short, the Chevrolet Colorado at Bunnin Chevrolet of Santa Paula in Santa Paula, CA offers everything you need for a comfortable and enjoyable ride.