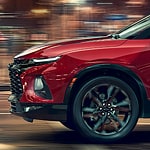 The 2022 Chevrolet Blazer is one of the safest vehicles on the road. It comes standard with several features that help to protect passengers in the event of an accident. One of the most notable features is the antilock braking system, which helps to prevent brake lockup and provides shorter stopping distances. The Chevrolet Blazer is also equipped with seat belts designed to reduce the risk of injury in a crash.
In addition, the Chevrolet Blazer offers adaptive cruise control, which can help keep the vehicle safe from the car in front. The body of the Chevrolet Blazer is constructed from high-strength steel, which helps to absorb impact energy in a crash. The front and rear seats are designed to minimize whiplash, and the headrests can be adjusted to provide optimal support in the event of a collision. The Chevrolet Blazer also features side-impact airbags, which offer protection in the event of a side collision in Santa Paula, CA.
The Chevrolet Blazer at Bunnin Chevrolet of Santa Paula is one of the safest cars on the market and is sure to keep passengers safe on even the most dangerous roads.