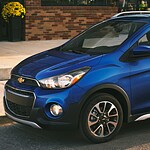 A reliable car is a must for your Santa Paula, CA metro commute. At Bunnin Chevrolet of Santa Paula, our team knows that driving the right car is also a great way to liven up each day. The following interior features will help you enjoy life while driving a Chevrolet Spark.
Whether running the kids to school or enjoying a leisurely ride through the country, being comfortable in your car makes all the difference. A leather-wrapped steering wheel with mounted controls puts everything easily within reach. Manually adjustable leatherette seats help you and your passengers enjoy the ride.
A standard six-speaker sound system provides the tunes and entertainment you need to upgrade your drive. You can even enjoy Chevrolet's Infotainment system on a seven-inch color touchscreen. Taking a test drive is a fun and informative way to find out why the Chevrolet Spark is a customer favorite.